I have bred Parti Cocker Spaniels since 1991 on a very limited basis. 
Please contact me for additional information.
Petticoats Half Dreamer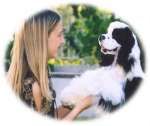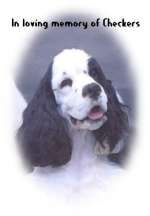 We lost Checkers much too soon, at 1 1/2 years old due to Liver Disease developed through a virus.  Checkers was a wonderful little dog with a big personality.  He had 7 points toward his Championship including a 5 point major thanks to Gary Walker believing in him.  He is missed.
Since loosing Checkers we have lost several of my other dogs:  Princess (11), Sassy (11), Queenie (14), Scooby (10), Honey (11) & Casper (14).  There has been a hole in my heart left open for all of them.
Plus we lost Gary Walker too.  Going to the dog shows without him has not been same.  But I'm sure he is still watching from above.